2012 4th Annual Ukulele Picnic in Hawai`i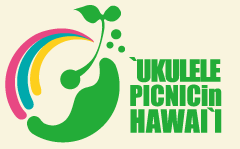 2012 Annual Ukulele Picnic in Hawai`i was held at beautiful hilltop of Kaka`ako Waterfront Park. Like last year, the event was blessed with beautiful Hawaiian blue sky. Thousands of picnic visitors enjoyed music and ono foods all day long.
Thanks to YouTube posting of videos by visitors of Ukulele Picnic, the event is gaining recognition worldwide. Now many inquiries are coming from Europe, Australia, and Asia. Popularity of Ukulele is growing beyond our expectation since we started Ukulele Picnic in Hawaii 4 years ago in 2009. We foreseen growth of this one of a kind event in coming years.
Since 2009, we have been making official T-shirts. Each year, we have different design. We post 2012 T-shirt design. Our 2011 T-shirts was so popular that we are are still receiving inquiry about how to buy it. Those lucky folks got T-shirts at the event. If you are really interested, please contact info@ukulelepicnicinhawaii.org as we might have some in stock.