'Ukulele Picnic in Hawai'i Announces Series of Live & Virtual Events in September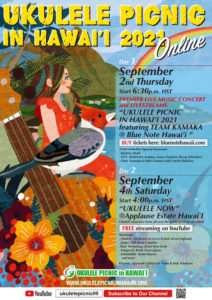 Celebrating the 'ukulele, the Two-Day Festival Features a Concert with Raiatea Helm & Members of Team Kamaka
HONOLULU (July 14, 2021) – The annual 'Ukulele Picnic in Hawai'i announces a series of live and virtual events featuring local and international 'ukulele musicians September 2 – 4, 2021. The International 'Ukulele Contest was held earlier this year, with a record number of entrants and winners announced on May 4, 2021.
Ukulele Picnic in Hawai`i, a festival of music and friendship through Ukulele, has gathered many ukulele enthusiasts annually on Oahu. However, they were unable to host a physical Picnic on their regular February schedule this year, due to the ongoing Covid-19 pandemic. For participants from countries other than Japan or the US mainland, preparing for international travel is still difficult, in spite of many improvements for Hawai`i. It seems like more time will be needed to plan the picnic in person, ensuring a safe and comfortable environment.
This year for the very first time there will be a "Virtual" Ukulele Picnic in Hawai`i. This event aims to connect the world through the sound of ukulele online. Festival founder Kazuyuki Sekiguchi shares, "As you know, there are many amazing professional ukulele musicians around the world. And there are countless numbers of ukulele lovers across the globe who enjoy "stay-at-home" time practicing, playing our beloved instrument and our friend, the Ukulele. It is our wish that this Online Ukulele Picnic in Hawai`i can reach out to each one of them, and create a borderless connection throughout the world. In this event, we would like to share the current situation of some countries though the sound of ukulele, which will enable us to feel closer even during this pandemic period."
There will also be a special night at Blue Note Hawai`i on September 2nd. This will be an event filled with talented local musicians and a live audience. This concert will be streamed online, and anyone who purchases a ticket will be able to enjoy this show regardless of where they live. The mission of Ukulele Foundation of Hawai`i is "Ukulele Connects the World." Tickets are now available at https://www.bluenotehawaii.com/show.php?runId=1085
Day 1
Event Title :     Team KAMAKA Live at BlueNote Hawai`i
Date & Time :  Thursday, September 2nd at 6:30pm HST
Venue:              Blue Note Hawai`i
Performers :    Raiatea Helm,
NUE (Na Ukulele Ekolu),
Halehaku Seabury,
Kama Hopkins & Bryan Tolentino,
Chris Kamaka,
Kalei Gamiao & Uncle's Jukebox
Emcees :           Kazuyuki Sekiguchi & Tomo
Day 2
Event Title :     Ukulele Now!
Date & Time :  Saturday, September 4th at 4:00pm HST
Location :         Applause Estate Hawai`i Viewing Platform: YouTube Live <https://www.youtube.com/user/ukupichawaii>
Performers :    Ukulele Orchestra of Great Britain (from England),
James Hill (from Canada)
Paul Hemmings (from New York)
Sekiguchi Band (from Japan)
Sebukulele (from France)
and more
Emcees :           Kazuyuki Sekiguchi, Tomo & Jody Kamisato
For more information about 'Ukulele Picnic in Hawai'i, please visit www.ukulelepicnicinhawaii.org. Also, follow Ukulele Picnic on Twitter, at  https://twitter.com/ukulelepicnic, on Facebook at www.facebook.com/ukulelepicnichawaii and on Instagram at www.instagram.com/ukulelepicnic.
About 'Ukulele Picnic in Hawai'i
'Ukulele Picnic in Hawai'i is a free event that uses the 'ukulele to connect people across the differences of language and race. Since the first event in 2009, more than 5,000 people participate in the event from all over the world each year, increasing awareness about the 'ukulele, and building a strong following for Hawaiian music. The proceeds from 'Ukulele Picnic in Hawai'i will be dedicated to the construction of the 'Ukulele Museum.
About 'Ukulele Museum
As an international museum and entertainment center, the 'Ukulele Museum will bring together 'ukulele fans from around the world. The museum will contribute to children's educational development through guest lecturers and field trips to the site as well as provide a venue for musical events and a place of "tranquility" for island residents to gather.
A permanent collection, the history of the 'ukulele and its contribution to Hawaiian music will be shown. Plans for the museum also include a cafe and gift shop.