Ukulele Legends in Concert Features Bill Tapia, Eddie Kamae, and Ohta-san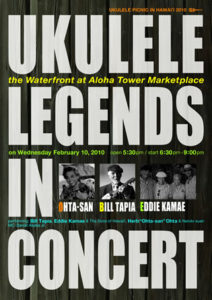 The Ukulele Legends in Concert at the Waterfront at Aloha Tower Marketplace on Wednesday February 10, 2010 is appropriately named since it will feature three true Hawaiian treasures and bona fide ukulele legends. Performing on stage will be the 102 year old ukulele virtuoso Bill Tapia. He will be joined by 82 year old Eddie Kamae and the Sons of Hawaii and 75 year old ukulele perennial Herb "Ohta-san" Ohta. Together they possess 200+ years of ukulele experience. This landmark concert brings together three of the living giants of the ukulele in a concert that's not to be missed by anyone with an affection for this iconic Hawaiian instrument.Bill Tapia has been entertaining for over 90 years and has built an impressive career as one of the ukulele's great masters and innovators. He is often credited as the first musician to play jazz on the ukulele and has performed with names such as Bing Crosby, Louis Armstrong, Elvis Presley and Hawaiian musicians such as King Bennie Nawahi, Sol Ho'opi'i, and Andy Iona. Along the way he has been the inspiration and mentor for subsequent generations of ukulele performers.Eddie Kamae is one of those influenced by Tapia and now a living ukulele legend in his own right. He is an ukulele virtuoso, singer and composer and originated unique plucking techniques that forever changed the method of playing the ukulele. After learning to play on a found ukulele in his teens, he gained fame in Hawaii with such groups as Ukulele Rascals and Ray Kinney's Orchestra. With famous slack-key guitarist Gabby Pahinui, he later founded Sons of Hawaii, a now-legendary Hawaiian band that he will be performing with at the concert. He helped make the ukulele a solo and lead instrument rather than an anonymous member of the rhythm section. Over the past 20 years, Kamae has become known as a primary proponent of the "Hawaiian Cultural Renaissance." In the last two decades, he and his wife have written directed and produced a catalogue of award winning films featuring Hawaiian music and culture.Herb Ohta, the youngster of this group, is the most prolific ukulele artist ever in terms of numbers of recordings and his exploration of a multitude of styles. For over 50 years Ohta-san has explored the musical possibilities of the ukulele like no other artist and has arguably inspired and influenced more players than any other living ukulele virtuoso. Not only as a performer but as a teacher he continues to have an incalculable impact on the stature of the instrument worldwide. What:
Ukulele Legends in ConcertWhere: The Waterfront at Aloha Tower Marketplace
When:
Wednesday February 10, 2010, doors at 6:00pm
Who:
Performing: Bill Tapia, Eddie Kamae and the Sons of Hawaii, Herb "Ohta-san" Ohta.
Presented by:
The Ukulele Foundation of Hawaii, all proceeds go to benefit the Foundation.
How:
Tickets are available at Honolulu Box Office, 550-TIKS (8457)
.
Theatre style seating. Ticket options include VIP front of stage seating with bento, $65; rear section general admission seating, $30 (additional service charges may apply). Food and drink, with full bar, will be available for purchase. For more information please contact Rick Schneider atrick@eventsint.com