Ukulele Pa`ina at Pipeline Cafè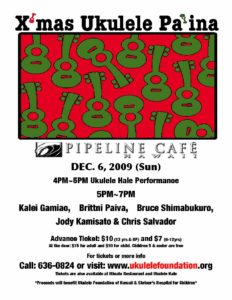 Ukulele Party! The 3rd Ukulele Pa`ina will be held at Pipeline Cafè on December 6, 2009 (Sunday). Pa`ina is Foundation's successful event that perpetuates happiness and joy of the ukulele in Ohana style music party filled with lots of Aloha.
This year, Pa`ina features performances by Kalei Gamiao, Brittni Paiva, Bruce Shimabukuro, Jody & Chris, and students from Ukulele Hale, an ukulele school in Kaimuki.
Advance Ticket is $10 ($7 for children at age 6-12). For more information, please call 808-636-0824. Tickets can be ordered by fax using this form: 2009 paina ticket order form or by calling the number above. You can also purchase tickets online from our online order page. For the information in Japanese, please visit www.ukulelepicnicinhawaii.org