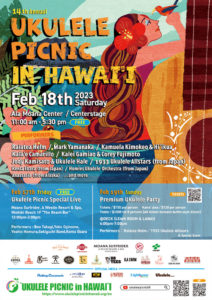 The 14th annual Ukulele Picnic in Hawaii, a three-day festival across multiple venues in Honolulu. Most events are free and open to the public.
FRIDAY, FEBRUARY 17, Noon to 2 p.m.
"Ukulele Picnic Special Live" at the Beach Bar, level one of the Moana-Surfrider, A Westin Resort & Spa (2365 Kalakaua Ave.). Free.
SATURDAY, FEBRUARY 18, 11 a.m. to 5:30 p.m.
Centerstage at Ala Moana Center with ukulele virtuosos from Hawaii and Japan. Free.
SUNDAY, FEBRUARY 19, 4 to 7 p.m.
"Premium Ukulele Party and Boo Takagi
more info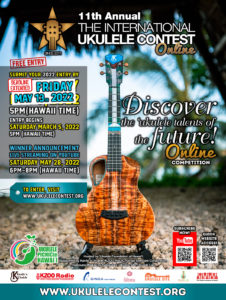 While we plan to hold 2022 Ukulele Picnic in Hawaii in September, we are happy to announce that 11th International Ukulele Contest will be held online again. During this long-lasting pandemic, I am sure a lot of people are experiencing some sort of stress, and it could be possible that children are feeling that stress more than adults are. Therefore, it is my wish to let ukulele heal your souls, as well as give you new opportunities in life.
To our keiki:
I believe you
more info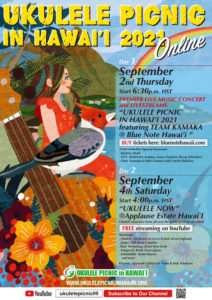 Celebrating the 'ukulele, the Two-Day Festival Features a Concert with Raiatea Helm & Members of Team Kamaka HONOLULU (July 14, 2021) – The annual 'Ukulele Picnic in Hawai'i announces a series of live and virtual events featuring local and international 'ukulele musicians September 2 - 4, 2021. The International 'Ukulele Contest was held earlier this year, with a record number of entrants and winners announced on May 4, 2021. Ukulele Picnic in Hawai`i, a festival of music and friendship through Ukulele, has gathered many ukulele enthusiasts annually on Oahu.
more info