The 14th Ukulele Picnic Returns to Hawai'i this weekend, February 17-19, 2023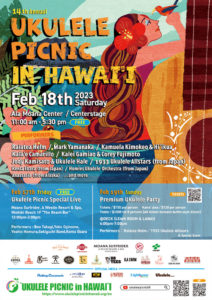 The 14th annual Ukulele Picnic in Hawaii, a three-day festival across multiple venues in Honolulu. Most events are free and open to the public.
FRIDAY, FEBRUARY 17, Noon to 2 p.m.
"Ukulele Picnic Special Live" at the Beach Bar, level one of the Moana-Surfrider, A Westin Resort & Spa (2365 Kalakaua Ave.). Free.
SATURDAY, FEBRUARY 18, 11 a.m. to 5:30 p.m.
Centerstage at Ala Moana Center with ukulele virtuosos from Hawaii and Japan. Free.
SUNDAY, FEBRUARY 19, 4 to 7 p.m.
"Premium Ukulele Party and Boo Takagi Tribute" @ DECK., Queen Kapiolani Hotel. The Premium Ukulele Party also will celebrate the upcoming 90th birthday of legendary performer Boo Takagi. ($Tickets)
Hosted by: 'Ukulele Foundation of Hawai'i 501(c)3